UK Games Expo 2019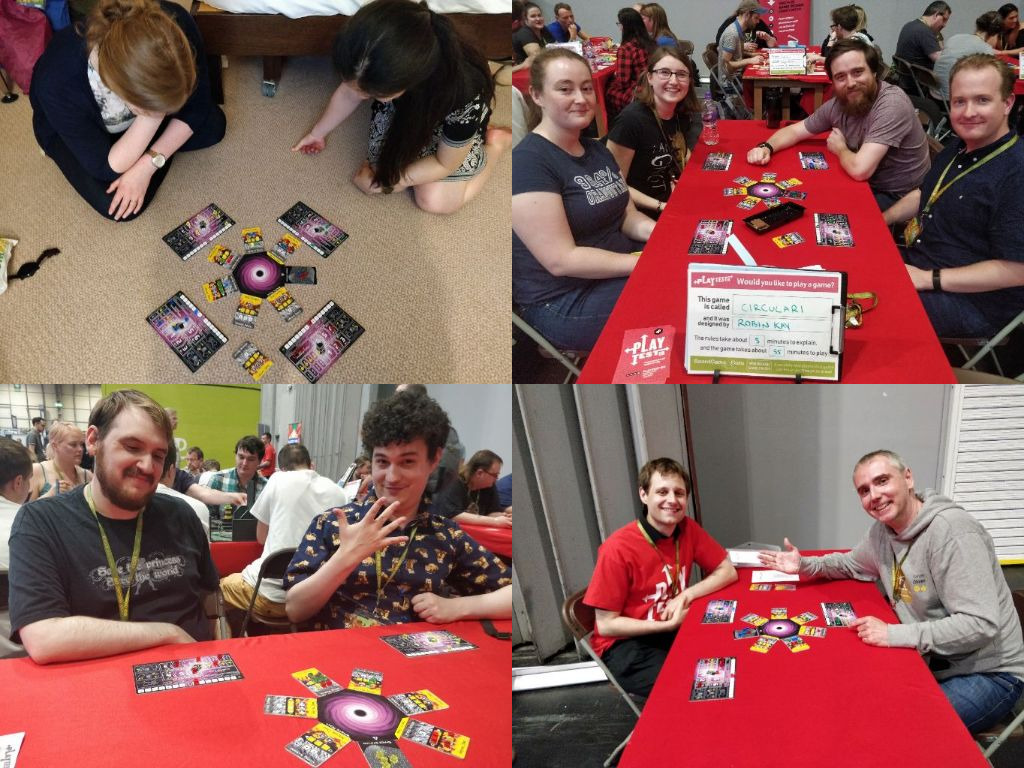 Alas, the UK Games Expo comes but once a year. It's over now for 2019, but 2020 dates have already been announced and everyone on Board Game Twitter seems to be frantically booking hotel rooms already. The circle of life continues!
I had attended the expo before, but we made our first trip this year as a family-slash-corporate-entity. We had a fabulous time and, apart from all the waking up in the middle of the night, having a baby in tow barely cramped our style.
We managed to play 4 games of Circulari while at the expo. The first one was on Friday with our friends Jim and Tori at Laser Louts Studios. This was the first outing for a number of new gameplay tweaks and thankfully the results were good. Eliminating one of the resource sinks seems to have dealt with the problem of fallow turns whilst heating up the economy a little, but not too much.
The following day I hit the Playtest Zone and got 2 games into our slot. Playing Circlari involves a lot of thinking and I often find myself looking at play-testers' furrowed brows with a bit of trepidation during the game, so it was such a pleasure to find out that both groups really did enjoy themselves at the end. As a bonus, I had a chance to meet YouTuber To The Table Games who joined in the first game and then recorded a short video of me taking about my favourite game component.
Lastly but by no means least, on Sunday we met up with Oliver Kinne from Tabletop Games Blog to play our fourth and final game of the expo. We've been reading Oliver's blog for some time now and it great to meet him in person. Although we failed to execute on our plan to let internet celebrity win, he seemed to enjoy Circulari anyway and you can read more about his experience of the expo and first impressions of Circulari on the Tableop Games Blog.
Aside from playing Circulari, we also tried to see as many of exhibits as we could and got the chance to meet a few Twitter handles in person. Janice from Wren Games was promoting their new Kickstarter for Sensor Ghosts, Phil from Cards of Fate sold me a copy of Forest of Fate, Emma from Emmerse Studios tried to explain Quirk! to us before being mobbed by some children, and I even managed to steal a few minutes with Matt from The Friendly Boardgamer while he was manning the Zatu Games stand.
Can't wait for next year!