Tabletop Gaming Live

Our first ever exhibition took place last month at Tabletop Gaming Live. Now in its second year, Tabletop Gaming Live takes place at Alexandra Palace in north London and for the span of a weekend turns the Great Hall into a microcosm of the board game industry. Aside from the giant areas given over to Asmodee subsidiaries, lots of independent designer-publishers were in attendance such as Wren Games, Naylor Games, Stuff by Bez, and of course ourselves!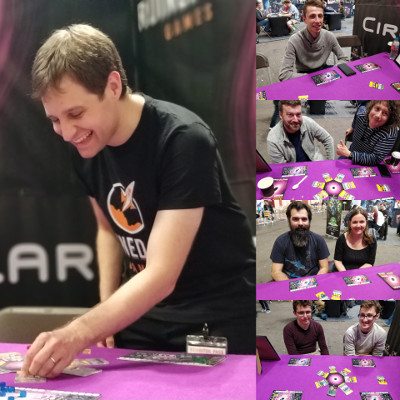 The stand came together on Friday in just four hours of carefully affixing velcro hooks to the backdrop and trying, failing, and ultimately succeeding to roll it onto the 2.4 metre high felted shell. While on reflection the shell walls did make the stand feel a little enclosed and hard to spot, many people commented that it looked very professional. Still, the lure of easy to use roll up banners will be hard to resist in the future.
I was fairly nervous as the show opened on Saturday morning, but fortunately the requisite Circulari marketing patter soon came to me. I saw a lot of different people visit the stand over the course of the show and we're grateful to everyone who showed an interest in Circulari. Interactions ranged from a quick explanation of the game's key points to the many delightful people who sat down for a full game. Despite forgetting to more often that I would have liked, I also got lots of people to put down their e-mail addresses for our newsletter.
One of things I found difficult was judging what kind of experience a given person was hoping to have and crucially the amount time they wanted to spend having it. It would great to have a more compressed but still playable demo experience for expos. It was also difficult to manage the manpower requirements of both attending to casual interest from show goers and running demos. A bigger stand with more people to run it and delineated areas for different activities would help with all of the above and is definitely something we have planned for the future.
All in the all, we had a great time exhibiting at the show, but it was also a fantastic learning opportunity. We have a long list of things to improve upon and can't want to get started on it. We're booked in already to exhibit at Dragonmeet 2019 and AireCon 2020, and hopefully will also be appearing at the UK Games Expo in 2020 too.